Purple Tuesday Explained
| | |
| --- | --- |
| | By Katherine | 11 Nov 2019 15:00:00 |
Purple Tuesday this year falls on Tuesday 12th November 2019. With the spending power of disabled people and their families estimated at £249 billion and rising by 14% per annum, Purple Tuesday is a new, international call to action, dedicated to improving the shopping experience for disabled people. Worldwide, the Purple Pound equates to a staggering £2.25 trillion, yet less than 10% of businesses have a targeted plan to access this disability market. So it is really important that retailers, restaurants, entertainment venues, pubs, hotel, and clubs, etc improve their access and customer service for disabled people for a more inclusive shopping experience.
Organisations that participate in the scheme make a public commitment (a minimum of one new activity or initiative) to ensure sustainable changes are made. For organisations, this will result in the opening up of products and services to the disability market.
'Purple Tuesday' is supported by the Office for Disability Issues (ODI) and Sarah Newton, Minister of State for Disabled People, Health and Work who says:
"Ensuring that disabled people are able to access shops, restaurants and clubs isn't just the right thing to do - it makes business sense too. By failing to cater to their disabled customers, many businesses are missing out on the spending power of disabled people and are denying them the opportunity to enjoy something which many people take for granted. There is still time to get involved in this important initiative and I encourage businesses across the country to do just that - and reap the rewards."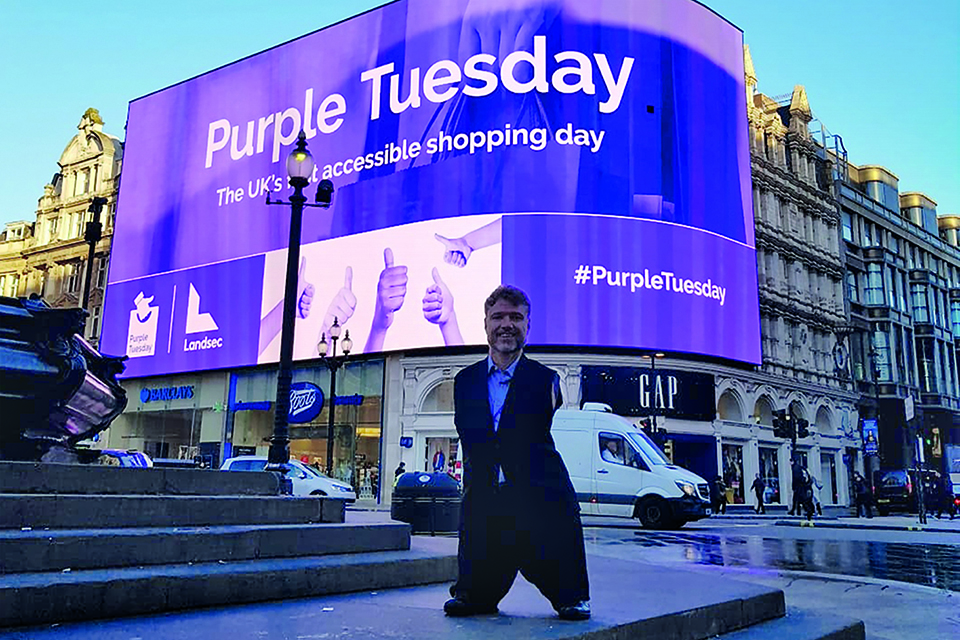 Purple Tuesday campaign founder Mike Adams OBE at Piccadilly Lights, London (Photo by We Are Fred.)
Purple Tuesday is free for all organisations to get involved with. All they ask is that each participating organisation makes at least one new commitment to improve the customer experience for disabled people. The commitments they choose to make can be completely bespoke to their organisation, suggestions are as follows:
Complete an Online Accessibility Audit - To identify where you can make improvements on your website to improve online accessibility
Complete a Site Access Audit - To identify where you can make improvements in your physical space to improve accessibility
Provide customer service training - For your staff through face-to-face, online or blended forms of delivery to help your staff confidently communicate with disabled people, without fear of unintentionally offending them
Training and awareness - To help your staff to understand various types of disabilities, including those which are hidden or invisible
British Sign Language - Training your staff to learn some keywords and phrases in British Sign Language to enable basic conversation with customers who use this as their main form of communication
Formalising quiet hours - To support customers who may have sensory needs such as Autism, ensuring all usual loud noises are either reduced or removed during this period, such as till beeping and music
Our Commitment:
As an online retailer in a market for disabled and ageing customers, our commitment to Purple Tuesday is to improve our website, making it more user-friendly for our disabled customers. We recognise that some of our customers may find the links on our pages to be too small and without good hand dexterity, or with a tremor, it may be hard to click on the links with a mouse. So we are starting to work our way through our site, enlarging the links (see example below) to make it more user-friendly. The links also need to have a strong colour/contrast to make them easier to see for anyone with a visual impairment.
You can read more about Purple Tuesday here